Among Americans, the popularity of medical marijuana is on the rise. Experts believe that cannabis use is expected to increase in the coming years.
As per a Gallup poll, since 1969, there's a tremendous increase in cannabis use. And, 45% of people in the United States say they have tried the herb at least once. According to a WHO survey, America is the leading per capita cannabis consumer in the world.
In this post, we're going to discuss the Marijuana Business Daily's new survey of the top 10 fastest growing medical marijuana markets in the nation.
Top Fastest Growing Medical Cannabis Markets in the United States
Currently, medical marijuana is legal in more than 30 US states. Each state has its own rules for medical cannabis users and each market grows at a different rate.
Marijuana Business Daily released a new analysis of growth in each state market and patient count.
Oklahoma tops the list of the medical cannabis fastest-growing markets. 4.1% of the state's population is MMJ patients, and average daily sign-ups are 641. It's among the states with the least restrictive medical marijuana programs. The state doesn't have any MMJ qualifying conditions list. And, doctors can recommend the herb for any condition.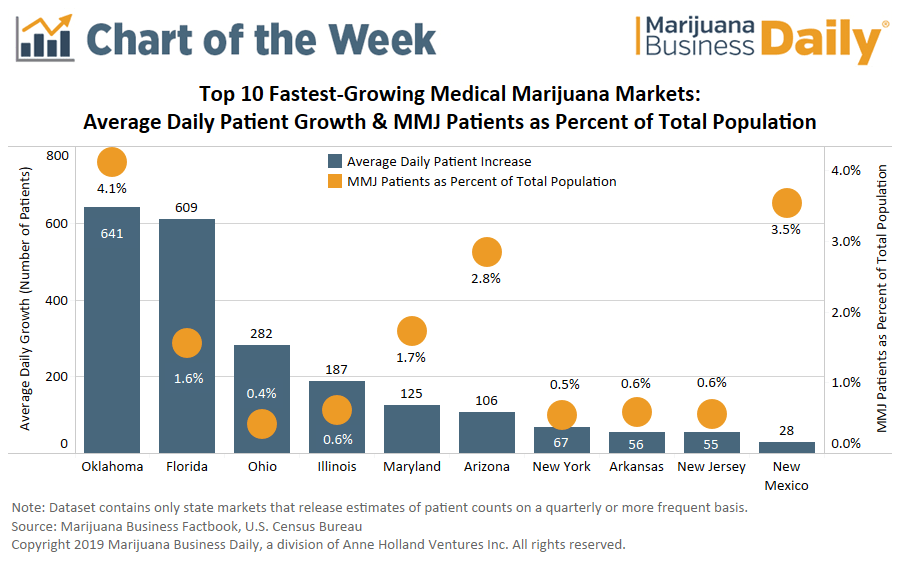 Source: Marijuana Business Daily
Next is Florida. Average growth of 609 patients per day and MMJ patients are just 1.6% of the total state population. The market is booming in the state with about two dispensaries opening every week. Currently, there're 14 license holders and recently, state regulators have approved licenses of eight more firms. Top players in the market are—Trulieve, Curaleaf, Surterra Wellness, Liberty Health Sciences, and Knox Medical.
Another reason for the market growth is that the state ended the ban on smokable cannabis in March 2019.
Ohio gets the number three position. The state has MMJ patients of just 0.4% of the total state population, and an average of 282 patients per day. The MMJ qualifying conditions list includes AIDS-HIV, Amyotrophic Lateral Sclerosis, Alzheimer's Disease, Cancer, Chronic Traumatic Encephalopathy, Crohn's Disease, Fibromyalgia, Glaucoma, Hepatitis C, Inflammatory Bowel Disease, Multiple Sclerosis, etc.
According to the analysis, Illinois followed with 0.6% MMJ patients of the total population.
After a great first year of cannabis sales, Maryland continues to grow. It has an average sign up of 125 MMJ patients per day and the patient count is 1.7% of the total state population.
New Mexico and Arizona also made solid growth and are expected to benefit from the recent developments. In New Mexico, regulators expanded the list of qualifying conditions. Additionally, a district court judge said that he believes that the law should begin issuing medical cannabis cards to individuals who aren't New Mexico residents. These include college students, visiting scientists, etc.
Arizona reported an average of 106 patients per day, and 2.8% of its population signed up for the medical marijuana program. The state's MMJ qualifying conditions list includes Cancer, Glaucoma, Hepatitis C, HIV/AIDS, Crohn's Disease, Amyotrophic Lateral Sclerosis/Lou Gehrig's Disease, etc.
State regulators extended the life of MMJ cards to two years from one year. Also, Arizona Beverages is partnering with a Denver-based marijuana company for producing cannabis-induced products.
Medical marijuana is proven beneficial for treating a wide range of conditions such as Anxiety, Depression, Cancer, Insomnia, etc. Compared with the prescription medications, it doesn't cause any side-effects, and more patients are turning to the herb for treatment. 
States are revising their medical marijuana programs, making the herb easily available for the patients. As per the new analysis by Marijuana Business Daily, the top medical marijuana markets are Oklahoma, Florida, Ohio, Illinois, Maryland, Arizona, New York, Arkansas, New Jersey, and New Mexico.